News
Olivier Vernon Charity Event
May 1, 2015

Olivier Vernon, American Football defensive end for the NFL's Miami Dolphins, held a fundraiser for three community-based organizations, including the ROSE Program, KQ Cares Foundation, and the GAMETYME Foundation. Mr. Vernon is committed to supporting these organizations because of their long standing in the community and their dedication to the health and wellness of children.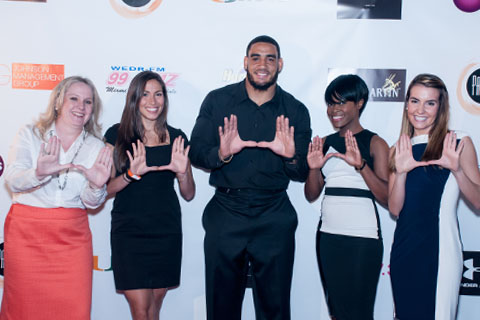 From left to right: Jeanne Luis, Daniella Carucci, Olivier Vernon, Marissa Alert, Mary Kate Clennan

2015 U ROSE Scholars

The following students were recognized as U ROSE scholars for their work in health promotion. Each received a stipend made possible by a gift from Dr. Howard and Mrs. Muriel Rose.

Doctoral Students in Clinical Health Psychology
Marissa Alert, M.S.
Mary Kate Clennan, B.A. B.S.
Undergraduate Students
Eric Xu, Health Science and Psychology Major
Marthy Brave, Psychology Major
Shivesh Kabra, Neuroscience and Economics Major


From left to right: Eric Xu, Mary Kate Clennan, Marthy Brave, Marissa Alert